April 27, 2011 
All Americans want to hear is where are the jobs, in a stagnant economy where jobs have gone to China, India and Mexico which is stimulating foreign economies, still America needs jobs now.
In fact the numerous stimulus packages did much more for other countries than within the US borders.

Ben Bernanke Chairman of the Federal Reserve in his press conference indicated that the Fed will end their bond-buying program in the near future.
Bernanke could not answer the tough questions like job creation since none of the stimulus packages throwing gobs of money at banks and Wall Street provided employment or even a business stimulus since the 2008 financial meltdown.
The Fed is concerned about keeping inflation low as opposed to job creation, keeping interest rates low, but if inflation increases interest rates will be have to be raised which will further plunge the economy back into a recession mode.
The Federal Reserve has never held a press conference in its history although growing pressure on the the Fed from Congress, union leaders and Americans on when the economy will be resurrected.
The Fed have no ideas on how to respond to the continuation of stagflation which is affecting the daily lives of Americans.  From higher gas prices at the pump, staggering low house prices, foreclosures, wage freezes, no credit borrowing and many other negative economic impacts still plaguing the country.
Ben Bernanke stated that "we are making a lot of progress" and yet still 7 million jobs are gone out of the economy than existed before the meltdown.
On a Wall Street Journal poll rating the federal Chairman, most responders 32.4 % of them gave him an F for Failure.

Even though Ben Bernanke held a press conference he did not project confidence or say anything we didn't already know and unfortunately he seemed to care less about the plight of Americans in the harshest sense.
As the economy continues to degrade the country the government has to also deal with the spiraling deficit and that requires the adults in Congress to get a grip on their ego's or party politics and get down to a real serious concrete plan to handle expenditures.
The country is in no mood to fight about birth certificates, religious policies, or low taxes for corporations many of the topics which have dominated the media headlines.  Whatever Bernanke wished to accomplish he failed to do and he is supposedly the go to man to spear head economic recovery!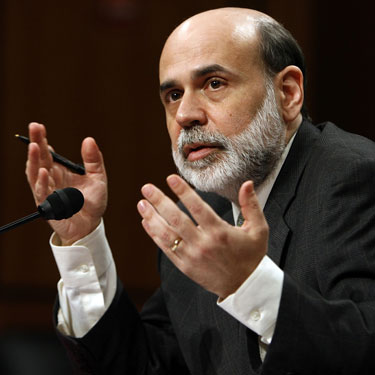 Mr. Magic -Ben Bernanke -Gets an F for Failure
Revised: Sept. 11, 2012