Feds Refuse Disclosure on Bailout
Secretary Henry Paulson first approached Congress with the bombshell that the US economy would come to an end, let alone the world if an emergency bailout was not forthcoming.
Paulson demanded total control of the funds, legal indemnity and in a secretive manner would not disclose who would receive the funds or what comprises the collateral.
Not one person appearing that day or several days later seemed to be bothered by these terms, and seemingly were so afraid of the sky falling -they went along with the plan to bailout Wall Street.
This timeliness of the bailout came in the middle of a Presidential election, when most people and politicians were distracted by the election and the subsequent infighting in both parties.
Two trillion dollars later, we are no closer to the truth and in fact if we were to know the truth there would be a run on the banks.
Feds Refuse Disclosure on Bailout
There are no details on the collateral in spite of the agreements made in September that both Ben Bernanke and Henry Paulson would comply with the demands for transparency Americans do not know where the money is going, and nor does Congress.
Bloomberg News is requesting the details under the FOI Act and has filed a lawsuit in the federal court several days ago to impose full disclosure.
Since it is taxpayers money to begin with, there should be truthfulness in who is receiving these funds and under what terms. Barney Frank said the Fed's disclosure is sufficient and that the central bank's risk exposure is appropriate during these hard economic times.
Everyone states they want transparency but this is basically a wash on disclosure and that is not acceptable.
We all know now that the Wall Street bailout went to executives in the way of Christmas Bonuses, golden parachutes and huge salaries for CEO's like Lloyd Blankfein who took home 68.5 million dollars in cash and equities in 2007. Blankfein later shopped for a 40 million dollar estate in the Hamptons, a 26 million dollar apartment in Central Park and sold his Nantucket property for sale at 55 million dollars.
Goldman Sachs had partners also that received huge bonus money worth 12 to 15 million dollars, as well 30,000 employees received 10.9 billion in pay and bonuses that year.
Basically, they took the TARP money and paid themselves richly, rewarding themselves for criminal behavior in manipulating mortgages and derivatives.We know now that only Bernie Maddoff was sent to prison for his crime of a ponzi scheme but no other CEO's have seen a jail cell.
Today, people are out of work in greater numbers than in 2007 and a certain backlash has started with Occupy Wall Street which is spreading like a virus across the USA.

People are standing up to these Wall Street crooks, in a peaceful demonstration that demands they be removed and banks to be dismantled by the government, so that control of the US financial system will not be subjected to any further criminal schemes by these same CEO's who are still in charge on Wall Street.
Feds Refuse Disclosure on Bailout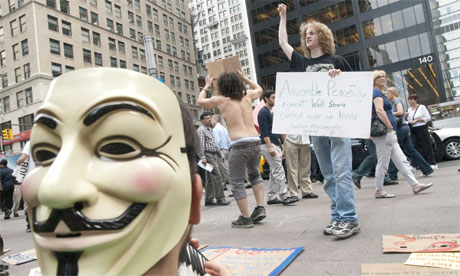 Feds Refuse Disclosure on Bailout